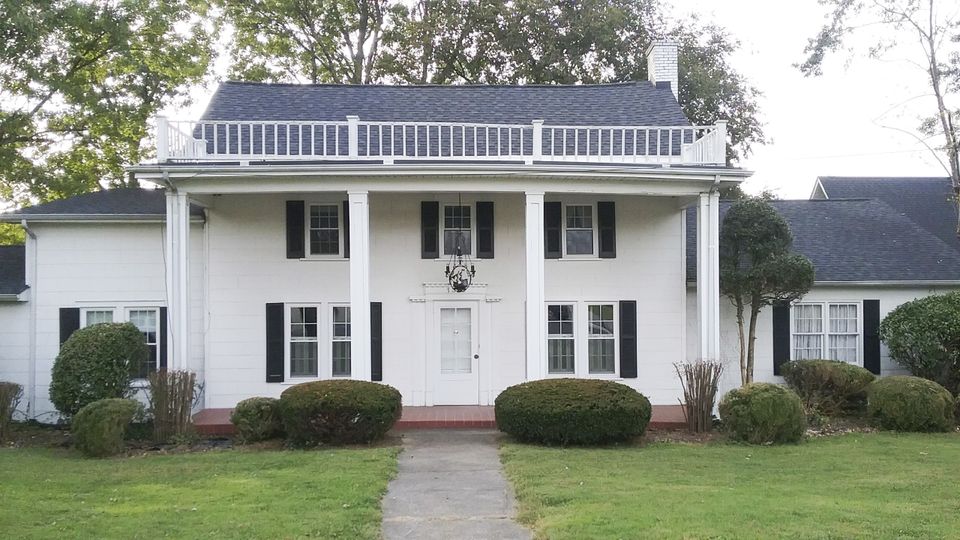 It started out as a log cabin. 

Rumor has it that Andrew Jackson spent the night here on his way from Nashville to Louisiana to fight the Battle of New Orleans in 1814. We have no proof of this.

Lynn Tolley, Jack Daniels great niece grow up here, John Lafayette Tolley her grandfather had a large farm that comprised all of the area now known as Tolley Town. He and his wife, Lillian Elizabeth Motlow Tolley, lived in the house on the hill across the street. Lillian was the niece of Jack Daniel and the sister of Lem Motlow who inherited the Distillery from Jack Daniel.

The log cabin (at 1328) was used as a commissary for the farm where tenants on the farm could get supplies.  The rafters in the two front rooms are rough because that is where they hung hams and meats for the store.

At some point, the cabin was added on to and eventually covered in clapboard.  It looked like a country farmhouse.

When the oldest son, Lem Tolley (4th distiller at Jack Daniel) got married, Lillian and Jim Conner Tolley (her youngest child and my father-John was dead by now) moved to the house at 1328 so that Lem could have the former house to raise his family.  At the time Jim had a general store and filling station across the street from 1328 on the corner. This building is currently the 911 Emergency Center. Jim was also a country peddler with a truck full of his goods which he sold up and down the country roads of Moore County. Jim owned the old Jack Daniel Farm on the old Fayetteville Hwy and was the Lynchburg Postmaster when he died.

Lillian died in 1946 and later that year Jim married Margaret Templeton from Fayetteville.

In the early 1950's Margaret raised the front porch roof and added 4 columns and the decorative railings on top of the porch roof. So begins years of renovations by Margaret and Jim on the old house.  Various rooms added, interior walls removed, doorways closed up and others opened up, carport added then enclosed, etc.

The side yard (away from town) was fenced and a shed added so Lynn could have a horse about 1959.  Jim died in 1971.

Margaret moved to an Assisted Living apartment in 2014.

In July 2017, Tommy Anderson and Joyce Adams purchased the property to renovate and opened Lynchburg Valley Inn.